Stuttgart – German prosecutors said Friday they have dropped an investigation into who built a snowman that bore an uncanny resemblance to Nazi dictator Adolf Hitler. A group opposed to right-wing activities filed a complaint at the end of January that the snowman violated German laws, which ban the reproduction of Nazi symbols or slogans.
The snowman, with a distinctive Hitler moustache and an arm raised in a Nazi salute, was built outside a pub frequented by right-wing extremists in Schorndorf, near the southern city of Stuttgart.
The case was dropped this week after police were unable to find the culprit, a spokeswoman for the Stuttgart prosecutor's office said.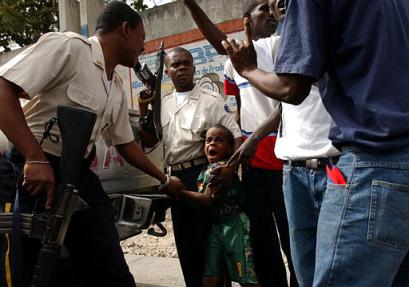 Haiti teetered on the brink of total anarchy tonight as looters rampaged through the streets of Port-au-Prince in search of food and water.
With desperately needed aid still barely trickling through, some survivors were reduced to fighting for scant supplies.
Witnesses reported gangs of young men armed with machetes stalking through the capital. As the security situation continued to deteriorate, UN peacekeepers warned aid workers they needed to travel with guards.
The Brazilian military, which heads the operation, said victims were increasingly desperate.
'Unfortunately, they're slowly getting more angry and impatient' said spokesman David Wimhurst,
'I fear, we're all aware that the situation is getting more tense as the poorest people who need so much are waiting for deliveries. I think tempers might be frayed.'
'They are scavenging everything. What can you do?,' said Michel Legros, 53, as he waited for help to search for seven relatives buried in his collapsed house.
Hard-pressed government workers, meanwhile, were burying thousands of bodies in mass graves.
There is still little sign of many survivors getting aid. No foreign assistance had reached the downtown area of Port-au-Prince, one of the worst-affected areas.
Ordinary Haitians sensed the potential for an explosion of lawlessness. 'We're worried that people will get a little uneasy,' said attendant Jean Reynol, 37, explaining his gas station was ready to close immediately if violence breaks out.
'People who have not been eating or drinking for almost 50 hours and are already in a very poor situation,' UN humanitarian spokesman Elisabeth Byrs
'If they see a truck with something, or if they see a supermarket which has collapsed, they just rush to get something to eat.'
The quake's destruction of Port-au-Prince's main prison complicated the security situation.
International Red Cross spokesman Marcal Izard said some 4,000 prisoners had escaped and were freely roaming the streets.
'They obviously took advantage of this disaster,' Izard said.
But Byrs said peacekeepers were maintaining security despite the challenges. 'It's tense but they can cope,' she said.
The UN World Food Programme said post-quake looting of its food supplies long stored in Port-au-Prince appears to have been limited, contrary to an earlier report Friday.
It said it would start handing out 6,000 tons of food aid recovered from a damaged warehouse in the city's Cite Soleil slum.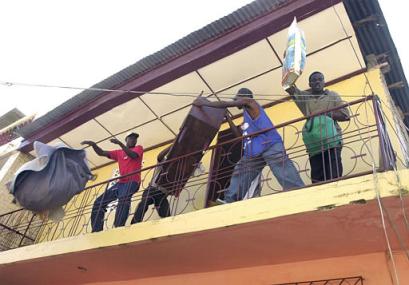 A spokesman for the Rome-based agency, Emilia Casella, said the WFP was preparing shipments of enough ready-to-eat meals to feed 2 million Haitians for a month. She noted that regular food stores in the city had been emptied by looters.
read more: AmRen
The British public are concerned at the rise of Islam in the UK and fear that the country is deeply divided along religious lines, according to a major survey.
More than half the population would be strongly opposed to a mosque being built in their neighbourhood, the study found.
A large proportion of the country believes that the multicultural experiment has failed, with 52 per cent considering that Britain is deeply divided along religious lines and 45 per cent saying that religious diversity has had a negative impact.
Only a quarter of Britons feel positive towards Muslims, while more than a third report feeling "cool" towards them.
The findings, to be published later this month in the respected British Social Attitudes Survey, show that far greater opposition to Islam than to any other faith and reveal that most people are willing to limit freedom of speech in an attempt to silence religious extremists.
David Voas, professor of population studies at Manchester University, who analysed the data, said that people were becoming intolerant towards all religions because of "the degree to which Islam is perceived as a threat to social cohesion".
He said: "Muslims deserve to be the focus of policy on social cohesion, because no other group elicits so much disquiet."
The "size and visibility" of Islamic communities has led to serious concerns about their impact on British society, Prof Voas concludes.
"This apparent threat to national identity (or even, some fear, to security) reduces the willingness to accommodate free expression.
"Opinion is divided, and many people remain tolerant of unpopular speech as well as distinctive dress and religious behaviour, but a large segment of the British population is unhappy about these subcultures."
Researchers interviewed 4,486 people for the survey, which is published annually by the National Centre for Social Research. They found that respondents with no qualifications were twice as likely to have negative attitudes towards Muslims as with those who had degrees.
The report describes a high level of unease regarding the UK's Muslim population, estimated at around two million, with many people considering that it poses a threat to the nation's identity.
While 55 per cent say that they would be "bothered" by the construction of a large mosque in their community, only 15 per cent would be similarly concerned by a large church.
Nevertheless, the research found considerable suspicion towards those of any faith who hold deeply religious views, while there was a widespread reluctance to see matters of faith intruding into the public sphere.
Nearly half (45 per cent) of Britons believe that laws and policy decisions would be worse if more politicians were deeply religious – almost double the number who think that they would be better.
read more: telegraph
Thousands of immigrants protested against racism in a southern Italian town on Friday, after a night of rioting sparked by an attack on African farm workers by a gang of white youths.
In one of Italy's worst episodes of racial unrest in years, dozens of Africans in Rosarno, in the Calabria region, smashed car windows with steel bars and stones and set cars and rubbish bins on fire late into Thursday night.
Police said at least one car was attacked while passengers were inside—several of whom were injured.
The immigrants, who also blocked a road, clashed with police in riot gear. Police said 7 immigrants were arrested. Thirty-two people, including 18 policemen, were injured.
The incidents took place after white youths in a car fired air rifles at a group of African immigrants returning from work on farms, injuring two of them.
On Friday morning some 2,000 immigrants demonstrated in front of the town hall to protest against what they said was racist treatment by many locals. Some shouted "we are not animals" and carried signs reading "Italians here are racist".
Scattered acts of vandalism by immigrants continued on Friday morning as some smashed store windows. Police said that in two separate incidents Rosarno residents had tried to run over immigrants with their cars.
Maroni [Interior Minister Roberto Maroni], from the far-right Northern League party that is a junior partner in Silvio Berlusconi's government, sparked controversy when he said one of the reasons for the violence was that illegal immigration had been "tolerated all these years".
Opposition leader Pierluigi Bersani and several centre-left politicians accused Maroni of fuelling the tensions.
"Maroni is passing the buck . . . we have to go to the roots of the problem: Mafia, exploitation, xenophobia and racism," Bersani said.
Italy has taken a hard line against illegal immigration and has moved to stem a tide of immigrants who board boats in Africa to try to reach its southern shores. Some boats have been turned back on the open seas.
read more: alertnet
BBC: A Pakistani court has ordered that two men have their ears and noses cut off, as punishment for doing the same to a woman who refused to marry one of them.
The two brothers were found guilty of kidnapping 20-year-old Fazeelat Bibi, one of their cousins, in September.
The judge in Lahore also sentenced them to life in prison.
Sentence was passed on Monday under a rarely invoked Islamic law dating from the 1980s. In the past similar sentences have been revoked on appeal.
'Eye for an eye'
Government prosecutor Ehtisham Qadir said the punishment had been awarded in accordance with the Islamic principle of "an eye for an eye".
Brussel Journal: Herman Van Rompuy. Get used to the name. He is the first President of the European Union, which with the ratification of the Treaty of Lisbon by all the 27 EU member states in early November was transformed into a genuine United States of Europe.
The President of Europe has not been elected; he was appointed in a secret meeting of the heads of government of the 27 EU member states. They chose one of their own. Herman Van Rompuy was the Prime Minister of Belgium. I knew him when he was just setting out, reluctantly, on his political career.
To understand Herman, one must know something about Belgium, a tiny country in Western Europe, and the prototype of the EU. Belgians do not exist as a nation. Belgium is an artificial state, constructed by the international powers in 1830 as a political compromise and experiment. The country consists of 6 million Dutch, living in Flanders, the northern half of the country, and 4 million French, living in Wallonia, the southern half. The Belgian Dutch, called Flemings, would have preferred to stay part of the Netherlands, as they were until 1830, while the Belgian French, called Walloons, would have preferred to join France. Instead, they were forced to live together in one state.
Belgians do not like their state. They despise it. They say it represents nothing. There are no Belgian patriots, because no-one is willing to die for a flag which does not represent anything. Because Belgium represents nothing, multicultural ideologues love Belgium. They say that without patriotism, there would be no wars and the world would be a better place. As John Lennon sang "Imagine there's no countries, it isn't hard to do, nothing to kill or die for, and no religion too."
In 1957, Belgian politicians stood at the cradle of the European Union. Their aim was to turn the whole of Europe into a Greater Belgium, so that wars between the nations of Europe would no longer be possible as there would no longer be nations, the latter all having been incorporated into an artificial superstate.
A closer look at Belgium, the laboratory of Europe, shows, however, that the country lacks more than patriotism. It also lacks democracy, respect for the rule of law, and political morality. In 1985, in his book De Afwezige Meerderheid (The Absent Majority) the late Flemish philosopher Lode Claes (1913-1997) argued that without identity and a sense of genuine nationhood, there can also be no democracy and no morality.
One of the people who were deeply influenced by Dr. Claes's thesis was a young politician named Herman Van Rompuy. In the mid-1980s, Van Rompuy, a conservative Catholic, born in 1947, was active in the youth section of the Flemish Christian-Democrat Party. He wrote books and articles about the importance of traditional values, the role of religion, the protection of the unborn life, the Christian roots of Europe and the need to preserve them. The undemocratic and immoral nature of Belgian politics repulsed him and led to a sort of crisis of conscience. Lode Claes, who was near to retiring, offered Herman the opportunity of succeeding him as the director of Trends, a Belgian financial-economic weekly magazine. It is in this context that I made Herman's acquaintance. He invited me for lunch one day to ask whether, if he accepted the offer to enter journalism, I would be willing to join him. It was then that he told me that he was considering leaving politics and was weighing the options for the professional life he would pursue.
Read more brusseljournal.com